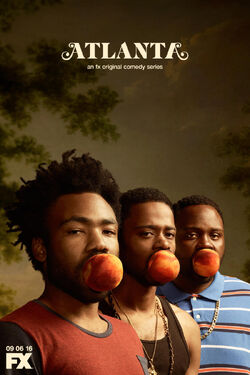 Season one of Atlanta began on September 6, 2016 and ended on November 10 of that year. The season consisted of ten, half-hour episodes, and FX broadcast them on Tuesdays at 10:00pm in the United States.
FX announced that development on Atlanta had begun in August 2013,[1] and a year later, the network ordered the pilot to the series.[2] Production on the pilot began in July 2015, and it was directed by Hiro Murai on location in Atlanta, Georgia.[3] The first season was officially picked by the network in October 2015.[4]
A second season, also of ten episodes, will air in 2018.[5]
Recurring
Edit
Production crew
Edit
Producers
Edit
Donald Glover – Creator/Executive producer/Writer/Director/Executive music producer
Paul Simms – Executive producer
Dianne McGunigle – Executive producer
Directors
Edit
Episodes
Edit
Title
Directed by
Written by
Original Air Date
"The Big Bang"
Hiro Murai
Donald Glover
September 6, 2016
Broke and low on options, Earn seeks to enter the music industry, even by offering to be a manager for his rapper cousin, Paper Boi.
"Streets on Lock"
Hiro Murai
Stephen Glover
September 6, 2016
Earn awaits bail after the boys get arrested for their shooting incident.
"Go for Broke"
Hiro Murai
Stephen Glover
September 13, 2016
Earn takes Van on a date, still broke. Paper Boi and Darius meet up with a group of thugs for a deal.
"The Streisand Effect"
Hiro Murai
Donald Glover
September 20, 2016
When a blogger begins trashing Paper Boi online, he decides to hunt down the blogger. Darius helps Earn look for a way to make big money fast.
"Nobody Beats the Biebs"
Hiro Murai
Stephen Glover
September 27, 2016
Paper Boi attends a celebrity event for the youth and is outwitted by a more famous hip hop artist. Earn faces a case of mistaken identity. Darius runs into trouble at the shooting range.
"Value"
Donald Glover
Donald Glover & Stefani Robinson
October 4, 2016
When Van meets up with an old friend, things don't go well for her. A sticky situation puts her job on the line.
"B.A.N."
Donald Glover
Donald Glover
October 11, 2016
TBA
"The Club"
Hiro Murai
Jamal Olori
October 18, 2016
TBA
"Juneteenth"
Janicza Bravo
Stefani Robinson
October 25, 2016
TBA
"The Jacket"
Hiro Murai
Stephen Glover
November 1, 2016
TBA
Reception and accolades
Edit
The first season received critical acclaim, scoring 90 out of 100 on Metacritic. Season one garned a total of 15 award nominations and won 8, including two Golden Globes and a Critics' Choice Award.
References
Edit
External links
Edit
Ad blocker interference detected!
Wikia is a free-to-use site that makes money from advertising. We have a modified experience for viewers using ad blockers

Wikia is not accessible if you've made further modifications. Remove the custom ad blocker rule(s) and the page will load as expected.