Atlanta is an American comedy-drama television series created by and starring Donald Glover. Set in the titular city, the series follows two cousins, Earnest "Earn" Marks (Glover), and Alfred "Paper Boi" Miles (Brian Tyree Henry), as they navigate through daily life in the southern metropolis, amidst racism, poverty, and the nuances of black rap culture. The show is shot in a single-camera format and filmed on location in Atlanta. Glover, who grew up in Atlanta, stated that the city influenced the tone of the show and that, overall, his goal for the series was to make "Twin Peaks with rappers."
FX picked up the series in October of 2015 and the first two episodes aired on September 6, 2016 then renewed for a second season after both episodes premiered but won't premiere until 2018 due to Glover's involvement in the untitled Han Solo film.
Characters
Edit
Main cast/characters
Edit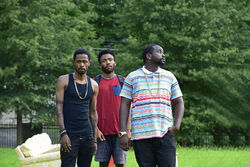 Production
Edit
Development
Edit
Main article: Songs featured in Atlanta
Marketing
Edit
Response
Edit
Critical reception
Edit
Awards and nominations
Edit
References
Edit
External links
Edit
Ad blocker interference detected!
Wikia is a free-to-use site that makes money from advertising. We have a modified experience for viewers using ad blockers

Wikia is not accessible if you've made further modifications. Remove the custom ad blocker rule(s) and the page will load as expected.